Ada Wells -- a New Zealand Suffragist
These pages tell the story of my great great grandmother, Ada Wells, a dedicated suffragist and social action campaigner in the 1800s and early 1900s.
Ada Pike was 10 when she arrived in New Zealand on board the sailing ship, the Merope, in 1873. She came with her parents, William and Maria and five siblings. The Lyttelton Times newspaper listed four of them: Blanche, 8, Constance, 7, Ellen, 4, and Thomas 1 1/2.
The family came in the second cabin of the ship carrying 143 immigrants from the United Kingdom.
This was the first pioneering experience for the girl who was later to become an outspoken and controversial figure in colonial Christchurch.
Ada's Life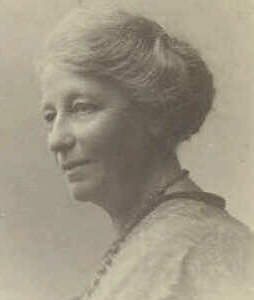 Ada Wells, 1902
These pages detail her journey and some of her recorded achievements as an
early pioneer of women's right to vote
. Work that she, her colleagues and seniors did in the latter part of the nineteenth century helped to achieve the vote for women in New Zealand in 1893. New Zealand was the first country in the world to grant the vote to women.
Ada went on to campaign for better treatment of orphans, better health and divorce laws. She was, what modern writers would term, a peace campaigner. Ada was elected the first female city councillor for the Christchurch City Council.
Ada's family came from England and valued education. They ensured that she had as good an education as their means would allow. Ada's brother, Chester Pike, wrote a description of their family life before he died. An excerpt from that account gives a vivid picture of Pakeha Pioneer life in Christchurch and other parts of New Zealand in the late 19th and early 20th centuries.
I have included a page showing a chronology of her life and of the suffrage movement.
Sources of information:
Family records and memories.
"Farewell Speech", a novel about Ada, her fellow suffragist, Kate Sheppard, and Ada's daughter, "Bim" written by Rachel McAlpine. More by Rachel McAlpine and writing for the web.
Links to my pages on Ada Wells
• Suffragist • Wells family • Ada's education • Chester Wells • Chronology